Light Blue Bella - sold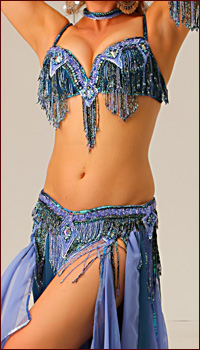 This is a one of a kind, custom made Bella costume from Istanbul. I bought it because I was trying something different (I never wear blue), but have decided that it doesn't look good with my coloring. It is in perfect condition with no beads missing. It has literally only been worn for photo shoots and has never been sweated in!
Bra
The bra is 34C, but the hooks could be moved to add up to 2 more inches.
Belt
Currently the hooks are 34.5 inches around at the top and 37 at the widest part of the hip. You could add another inch or so to the belt, but the hooks are quite close to the edge so there isn't a lot of opportunity to make it wider. The belt is sewn on to the skirt (see photo).
Skirt
The skirt is blue chiffon with sequins embroidered on the edges and a swirl design at the bottom. It is 35 inches in length. There are several extra bits of light blue, diamond shaped material dangling from the belt to give it extra movement.
This costume also comes with a headband (used in photos as a necklace), arm bands and wristbands.
Payment details: It will be sold on a first-come-first-serve basis. I accept paypal, but if you are paying from an unverified, overseas paypal account the costume will be held for one week before shippingin order to verify funds. Sorry, I cannot accept installments or hold costumes. Payment is due immediately upon confirmation.
back to Costumes for Sale page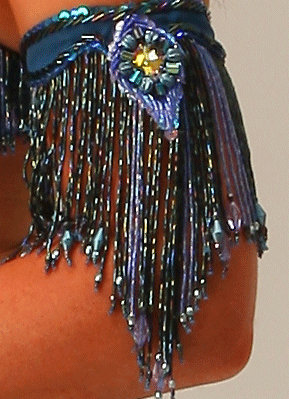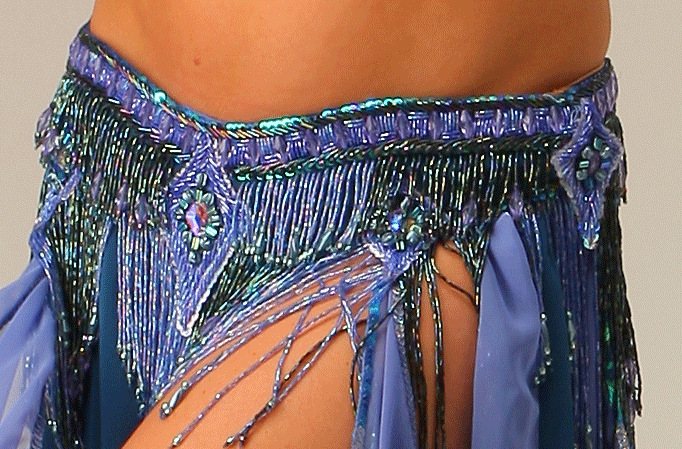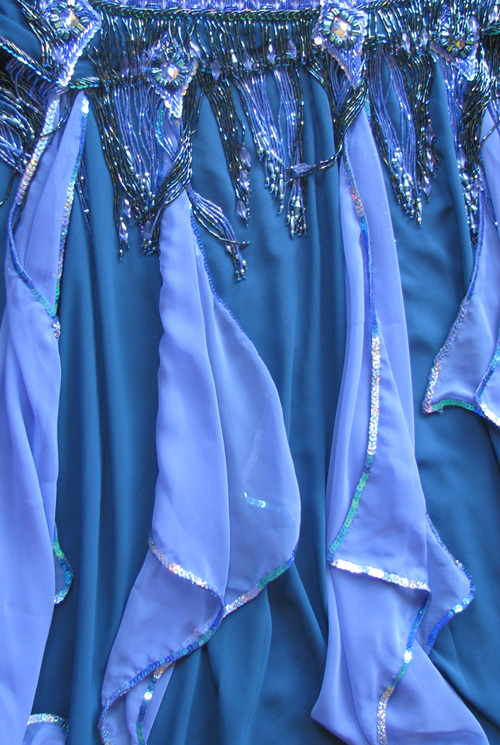 This view is of the costume laid out on a table. You can see that the fabric of the skirt is attached directly to the belt. Each diamond has a bit of fabric hanging from it.