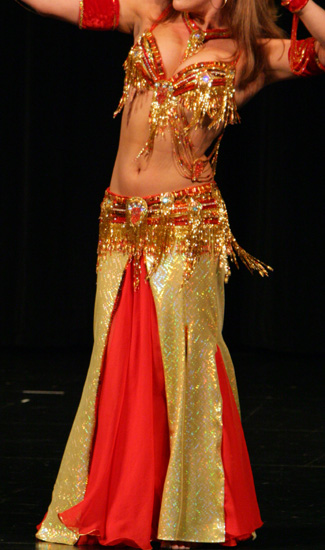 Red and Gold Bella
SOLD

This is a custom-made costume direct from Istanbul. It is a one-of-a-kind, delux model.
INCLUDES:
BRA - 34 C (can be extended up to 3 inches) The bra has several sexy cut-outs.
BELT - 35" (can add one more inch) It also has several cut-outs.
SKIRT - 35.5" long. I added the smaller red inserts myself. The slit can either be worn in the front with red harem pants, or on the side.
NECKLACE
WRIST BANDS
Payment details: It will be sold on a first-come-first-serve basis. I accept paypal, but if you are paying from an unverified, overseas paypal account the costume will be held for one week before shippingin order to verify funds. Sorry, I cannot accept installments or hold costumes. Payment is due immediately upon confirmation.
back to Costumes for Sale page