Red and Purple Flower Bella with ***2 skirts*** = sold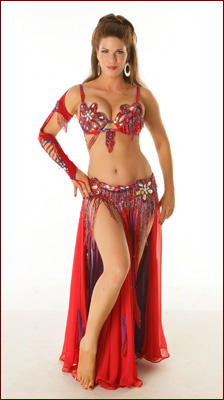 This is a custom made Bella costume from Istanbul.
I am selling it because my body has changed with pregnancy and am not sure when I will be able to fit into it again! I've decided to sell my old costumes and buy new ones.
The bra is a 34 C. You can add or remove a few inches by moving the hooks. You can also pad it to fit a B cup. The straps are over the shoulder. The right bra cup has lots of cut outs (creating the shape of a flower), but has nude mesh that makes it surprisingly stable and secure.
There is a full arm glove that is attached at the bra strap. It also comes with a necklace and a headband (not photographed).
Skirt #1: The skirt is 35-36 inches long (depending on how curvey you are) and is not attached to the belt. It is a full skirt made of chiffon with a front and back panel that attach to elastic at the top. Each panel has 2 colors of chiffon- red on the outter skirt and purple on the inner. There are several leaf shaped pieces of chiffon at the end of long, narrow strips that add a lot of movement to the skirt.
Shirt #2: The skirt is about 35 inches long (depending on how curvey you are) and is not attached to the belt. It is a straight, fitted skirt with a flair bottom and a slit up the left side. There is a cut-out over the right hip. I am 34.5 inches around at the top of the hip and 37 at the widest part of the hip and it fits me perfectly.
Payment details: It will be sold on a first-come-first-serve basis. I prefer payment via paypal, but if you are paying from an unverified, overseas paypal account the costume will be held for one week before shipping to verify funds. Sorry, I cannot accept installments. Payment is due immediately upon confirmation that you will be getting this costume.
back to Costumes for Sale page
email me at [email protected]